Southwestern Indiana
Where can I find out who is on my ballot and their stances on various issues?
Go to Vote 411 for personalized voting information.  Vote 411 is a platform of the national League of Women Voters Education Fund.  Each local League is responsible for contacting their local candidates with questions and inputting their replies online.  LWVSWIN has polled all of the Vanderburgh County candidates.

When will Early Voting in-person start in Vanderburgh County?
Starting October 6 there will be Early Voting in-person at the Old National Bank Events Plaza.  It has been moved from the Election Office due to Covid-19 and social distancing requirements.  Voters should enter through the Aiken Threatre entrance. Personnel, signage, and queuing measures will be there to direct voters to the right location once inside.  There will be free, one hour, on street parking available near the entrance. 

EARLY VOTING AT THE OLD NATIONAL BANK EVENTS PLAZA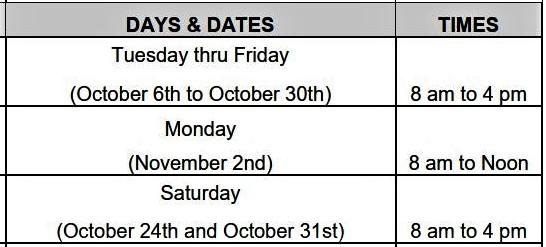 EARLY VOTING AT OTHER LOCATIONS STARTS OCT 19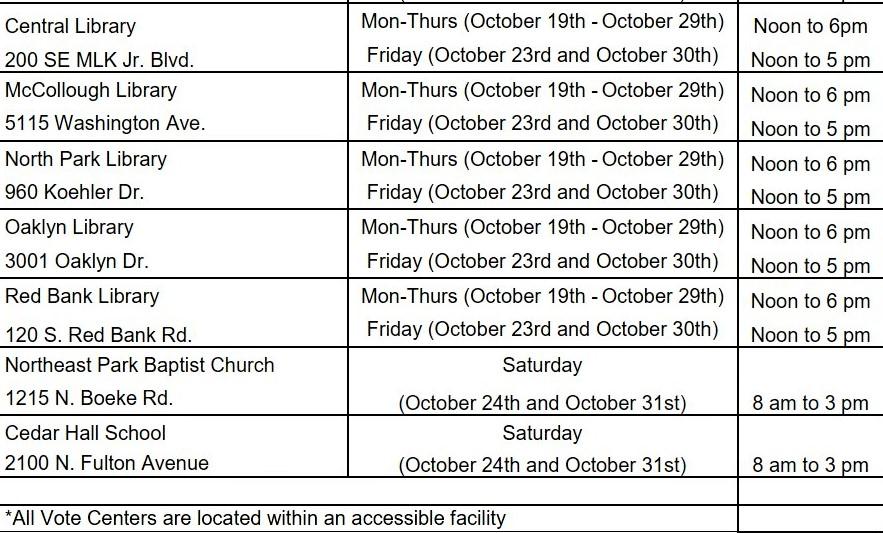 Where can I vote on Election Day? 
CLICK HERE for a list of Election Vote Centers in Vanderburgh County.
CAN I register to vote or check my voting status online? What is the deadline for the 2020 General Election?
Go to the Indiana Voter Portal at https://indianavoters.in.gov/.  Click on "Register to Vote" or "Check Voting Status."  
The deadline to register for the General Election is October 5, 2020.
HOW do I request an application to vote-by-mail?
Voters have several options when it comes to requesting an application to vote-by-mail.
Apply online in your voter portal at https://indianavoters.in.gov/. Click on "Apply Online/Get Forms" in the "Vote By Mail or Traveling Board" box. Then, click on "Visit My Voter Portal" and input your name, DOB, and county of registration to log in. (Try using your full first name as it likely appears on the voter registration records.) Click "Continue" then click on "Vote By Mail" to complete and submit your application.
Call your county's Election Office to request a ballot. Here are the phone numbers for local County Clerk Election Offices:  Vanderburgh 812-435-5122; Warrick 812-897-6161; Posey (812) 838-1306

Download, print, and complete the 

Application for Absentee Ballot (ABS-Mail)

 and sign and mail it to your local county election office at the address on the second page of the ABS-Mail.

  
 Do I need an EXCUSE to vote by mail?
Yes, as of September 14, 2020 there are 11 acceptable excuses for vote-by-mail in Indiana, including being at least 65 years of age. Go here to see a list of acceptable excuses.
WHAT ARE SOME IMPORTANT THINGS I SHOULD CHECK when applying to vote absentee?
Make sure that your last name is correct and that it matches what is on file for your Voter Registration.
Make sure that your address is correct (including apartment numbers) and this address matches what is on file for your Voter Registration. 
PLEASE NOTE that any mistakes or omissions on your application may impact the timeline to mail you a ballot. Please carefully read each section of the application, fill in the required fields, sign the application with an original signature, and mail it to your Election Office promptly in the pre-stamped envelope.
WHEN can I apply to vote absentee by mail?  When will I actually receive my ballot once I've applied?
Apply now!  Only submit one request for an absentee ballot.
Make sure that the election board receives your application before 11:59 PM on Thursday, October 22.
The first absentee ballots -- for those who have already sent in applications -- will be mailed out on September 18. 
As soon as you receive your ballot in the mail, complete and return it in the pre-stamped envelope!  Don't wait! During the primary many people waited until the last minute – and that creates backlogs and with potential postal service delays, ballots may not make it in time.
HOW can I check the status of my vote-by-mail application and ballot?

If you applied for an absentee ballot via the Voter Portal you can access information on your application and ballot through your personal Portal at https://indianavoters.in.gov/.
WHAT IF I CHANGE MY MIND after applying for an absentee ballot and decide to vote in person?
Once you request an absentee ballot, it is best if you vote that way.
If you show up at an election site to vote in person after you have requested an absentee ballot, you will have to complete additional paperwork and the ballot that you received in the mail must be surrendered. This creates delays for everyone.
WHO AND WHAT will be on my General Election Ballot?
You can visit your voter portal at https://indianavoters.in.gov/  to view candidates and any possible public questions on your ballot.
WHEN must my vote-by-mail BALLOT reach the local Election Board?
Once your ballot has been mailed to you, it must be received by your County Election Office before noon on Tuesday, November 3, 2020. Your completed ballot will not be accepted after noon. 
Before mailing you ballot MAKE SURE TO SIGN AND DATE THE YELLOW HIGHLIGHTED AREA ON YOUR BALLOT RETURN ENVELOPE.
A voter, the voter's attorney-in-fact, a bonded courier, or a member of the voter's immediate household may hand-deliver a completed absentee ballot to the county election board. Any person other than the voter doing so is to complete the ABS-19 affidavit.  
Download forms from the Secretary of State website.
Troubleshooting Absentee-By-Mail Ballot Issues (information from https://www.in.gov/sos/elections/2402.htm)
Before Election Day, a voter who has an absentee application on file can fix most issues by filing an ABS-5 form with county election officials. Examples include spoiling a ballot because the voter made an error, mistakenly signing your name on your spouse's ballot envelope, forgetting to sign your ballot envelope, or receiving the wrong ballot or a ballot lacking two sets of initials.
On Election Day, a voter who requested an absentee ballot but never received it in the mail may complete the PRE-5 affidavit at their polling location and vote a regular ballot, if otherwise qualified; OR

A voter may surrender their absentee ballot to the Inspector, who can then issue a regular ballot, if the voter is otherwise qualified; OR
A voter who had their absentee ballot rejected by county officials may appear before the county election board not later than 5PM on Election Day to request an ABS-21 form and then go to their polling place to vote a regular ballot, if otherwise qualified.